When the weather turns warm, there's only one drink I want to to completely replace my blood with: sangria. I have tried doing it before, and in all honestly I'll probably try to do it again at some point this summer. It's probably the ideal way to go out.
I'd lay odds most people think the process of making sangria extends as far as tossing some fruit in some wine and calling it a day, but I don't consider that sangria so much as a fun fruit salad. Real sangria needs liquor. And determination. But mostly liquor. As I've been spending a fair amount of time drinking on my balcony the past two months, my thoughts began to drift to my first sangria batch of the season, typically made with brandy and a carefully curated ensemble of produce and spice. But as the wheels turned, I realized that sangria is a perfect tiki vehicle. Some cursory searches online only turned up a kegged wine brand by the name of "Tiki Sangria," but no recipes or any indication that it actually is a tiki-inspired recipe and not just some way to sell tiki idol tap handles. Reader, it was time for me to enter the lab.
The most important thing you can do for your homemade sangria is to give it time. To that end, I'd also like to put forth a recipe for an easily overlooked cocktail that is well worth your attention and will help pass the time while your sangria gets good. I offer, for your consideration, the humble Cuba Libre. A simple combination of rum, coke, and lime, the Cuba Libre got its start in pre-revolution Cuba where it was sipped by all manner of bar patrons, international & domestic alike. As it migrated to the U.S. after the revolution, many took to just calling it a rum & coke. A real Cuba Libre, however, is not just rum & coke. If you order rum & coke at the bar, you get swill. Cuba Libres live and die by fresh lime, and while I've often advocated for convenience in drinks here, I insist you get some small limes for these. The recipe::
2 ounces rum
4 ounces Coke
1/2 small lime
Fill a glass with crushed ice. Pour in the rum. Squeeze the half of the lime into the drink, adding the shell if you wish. Top with the coke, add an extra splash. Stir with a straw and enjoy. I didn't specify a rum because you can use lots of different kinds, and it's a great way to make the different flavors shine. White rum is traditional, but I'd suggest a demerara (like the El Dorado 3 Year I mentioned last week) to really make this sing.
Now on to the sangria. This is where I must warn you that this recipe is no joke, and you must approach drinking it with caution. I've made 3 different iterations to fine tune. The first batch knocked me flat within 2 glasses (I still finished the carafe in a sitting). The second batch I approached with caution and it still made me cross-eyed after my first one (I also finished this in a day after I took a nap). Early returns on the third batch are promising but I also made a small blood sacrifice before pouring a glass in order to appease it.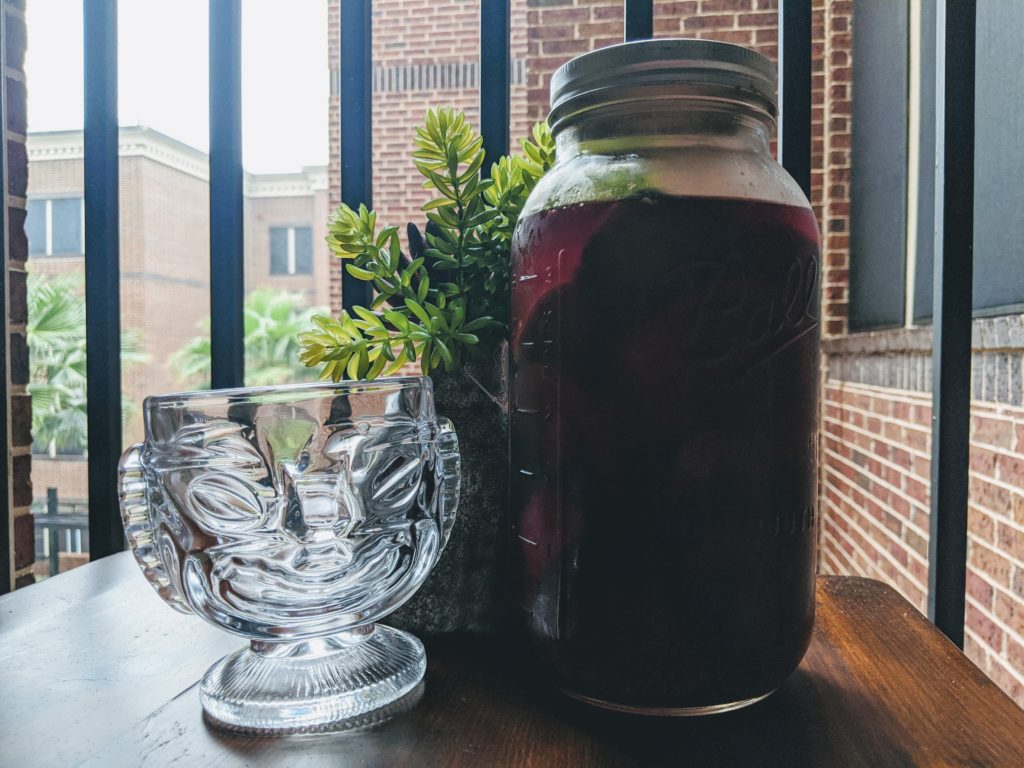 TIKI SANGRIA
1 Grapefruit
2 Limes
1 Lemon
6-8 ounces Pineapple
1 bottle cabernet sauvignon
1 cup white rum
1/4 cup falernum
1/4 cup brandy
2 ounces cinnamon syrup (or 3-4 cinnamon sticks)
2 ounces honey syrup (optional)
Angostura bitters
Start by cutting your fruit into wedges (for the pineapple, I bought pre-cut chunks from the fresh produce section of the grocery store). Place your wedges in a very large container (I use an oversized mason jar), squeezing them as they go in. Next, pour in your white rum, falernum, brandy, and syrups/sticks. Top with the wine. If your container has a lid, secure it tightly and give the jar a good shake. If not, stir the mix thoroughly and cover it with plastic. Refrigerate overnight. When ready, I suggest straining the sangria into a carafe to fish out any seeds and make it easier to serve. After pouring a serving, stir in a dash of Angostura bitters. After that, you're ready to time travel.
Not kidding about the strength of this stuff. This sangria will give you the best kiss of your life and then leave you bleeding on the side of a highway.
NEXT WEEK:
Take out a European Explorer, get immortalized with a drink