Intro
Rebound. I keep going back to the idea how rebound games are really fun and last week with the game being largely out of hand until the bitter end where it got a bit close, that game was really one where Texas Tech absolutely out-played Oklahoma State. I mentioned after the game that over-corrections after a game like that probably do more harm than good, and it goes the other way for a game like the Oklahoma game.
And I think there were a couple of things at play with the Oklahoma loss, which is that the staff had two weeks to prepare for the Sooners and absolutely made the wrong decision on who should be at quarterback (evidenced by Duffey's fantastic week last week) and the defense looked absolutely listless. I think the fans wanted to see more with a couple of weeks to plan and I thought the players and the staff rebounded nicely last week.
Now this team needs to step out on the road and do it against a Baylor program that's on the rise, both nationally and in the Big 12. Whatever feelings you have for Baylor (and I have plenty) they're a really good football team and Matt Rhule has assembled an excellent staff and he's recruited really nicely since he arrived in Waco for that rebuild. I mentioned in the Slack chat that I have a very difficult time finding much to dislike about Rhule other than I think he wears hideous clothes on the sidelines. If that's my biggest gripe, then he's probably doing something right.
Big 12 Boomerang.
Lots of byes this week, which I think they're technically they are called "open weeks". Obviously, the Big 12 is trying to focus the attention on Texas Tech traveling to Baylor or perhaps Texas vs. Oklahoma at the Great State Fair of Texas. Obviously, the line for the Texas Tech vs. Baylor game has moved from 9 to 11 (as noted above). The other game which should be interesting is to see if Iowa State can win on the road against West Virginia.
When Texas Tech Has The Ball
Up front, Baylor runs a 3-man front, James Lockhart (6-2/263) at defensive end, Bravion Roy (6-1/333), and James Lynch (6-4/295) at the other end. That's obviously some size up front and Roy is maybe the best player, but Lockhart and Lynch have made the most plays. Roy has 20 tackles, which is 4th on the team, with a sack and 4.5 tackles for a loss. James Lynch is down on the list of tackles, only 13, but 8.5 of them are tackles for a loss, and 6 of them are sacks. So, when he makes a play, it counts. Lockhart has just 11 tackles, but 6.5 are tackles for a loss and 2.5 are sacks.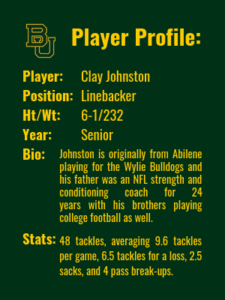 The three linebackers are Terrell Bernard (6-1/222) at the weakside, Clay Johnston (6-1/232) at middle linebacker, and Blake Lynch (6-3/225) at the strongside linebacker. They are all essentially the same size and they can all probably play all sorts of spots. And even the backups are all the same size too, so this 6-1/230 linebacker is the plan for Baylor. Johnston and Bernard are your leading tacklers, Johnston has 48 tackles, 2.5 sacks, 6.5 tackles for a loss, and 4 passes defended, while Bernard has 24 tackles. It should be clear that Johnston is obviously the Jordyn Brooks of the Baylor defense.
The three safeties are Gayland Arnold (5-10/190) and Chris Miller (6-0/191) are probably your free safeties, while Henry Black (6-0/206) is probably your strong safety (this is based off of size). Miller has 23 tackles, Black has 12, and Arnold has 15, so they're all in the mix as the guys that make plays for the Bears. The two starting cornerbacks are Jameson Houston (5-11/200) and Raleigh Texada (5-10/180) and none of the cornerbacks have any interceptions, while Baylor only has 3 on the year.
The Texas Tech offense looked much better against Oklahoma State and I thought there were a couple of factors that were in play: 1) a more involved tight end in the offense that creates another threat (which was non-existent previously); 2) excellent pass protection; 3) very good running spots for the running backs to keep the defenses honest; and 4) wide receivers made significant plays outside.
With Baylor, I think things might be a bit different in that Oklahoma State was not a good pass-rushing team and they played a lot of man defense. Previously this week, offensive coordinator David Yost mentioned that Baylor liked to play a lot of zone, which is what Texas Tech struggled against versus Oklahoma. The fact that Yost acknowledged all of these things is comforting, and so the question remains how does Yost attack Baylor and their zone defense (FN 1).
I think the first key is up front, which is if Baylor just runs a 3-man front, then I think this may be one of those situations where do you run until the Bears force you to pass? I think that's certainly an option, but Baylor has been excellent against the run with that same 3-man front and they just finished playing Kansas State where they only allowed 123 yards and 63 yards against Iowa State. It's certainly interesting in that this is truly a three-headed monster as Armand Shyne, SaRodorick Thompson, and Ta'Zhawn Henry all have 43-48-38 carries, while henry has 14 catches, Thompson has 12, and Shyne has 8 catches.
From a passing perspective, I think one of the keys will be continuing to involve the tight end, zig where the defense zags and eat up that yardage that Baylor will give up. I think that stretching the field vertically also will continue to work, but I'm still an advocate of stretching the inside receiver, who would hopefully draw the safeties out, would maybe leave the wide receiver one-on-one (FN 2). Baylor is going to bring pressure from the linebackers, so it will be absolutely critical that Texas Tech pick up the blitz and contain those 3-down linemen.
——————-
FN 1. I wasn't sure if everyone was good with Yost acknowledging this, I think this is a good thing and the fact that he is relaying this to his team and us as fans. There's an intention here that's interesting.
FN 2. A positive development last week was T.J. Vasher being thrown to in coverage, which is necessary, and Vasher connecting on those throws. Duffey throwing them where Vasher can get them or no one else was also intentional I think.
When Baylor Has The Ball
Head coach Matt Wells complimented the guys up front so we'll start there (FN 1). The normal starting left tackle is out for 4 to 6 weeks after being injured against Kansas State, which means redshirt freshman Casey Phillips (6-5/303) will get the start there. Then you have a couple of seniors, Sam Tecklenburg (6-4/310) at right guard and Jake Fruhmorgen (6-6/305) at center. Two juniors man the right side of the line, Xavier Newman (6-2/307) at right guard and Blake Bedier (6-5/302) at right tackle. Wells made mention of the 300-pound tight end and that is correct, Rob Saulin (6-5/302) and Christoph Henle (6-6/259) are the co-starters for the Bears at tight end.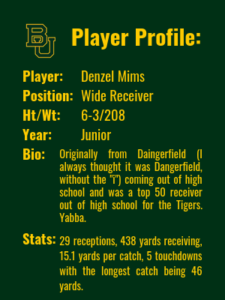 The four starting receivers are the main threats, senior Chris Platt (5-11/172), sophomore Tyquan Thornton (6-3/176), senior Denzel Mims (6-3/215), and sophomore RJ Sneed (6-1/200). Mims is the star of the group, but the other two are very good as well. Mims is the leader int he clubhouse, but Thornton and Sneed aren't far behind. Mims has 29 catches for 438 yards, averaging 15 yards a catch and 5 touchdowns. Thorton has 20 catches for 328 yards, 16 yards a catch, and 3 touchdowns, while Sneed has 17 catches for 203 yards, 12 yards a catch, and 2 touchdowns. Those are the three main threats and Baylor is spreading it to those guys pretty evenly. Nothing over 20 yards on average, which is a bit different than what Oklahoma was doing, so I'm sure they make big plays, but not to the point where they're consistently breaking 70 yards a catch which seemed to happen quite a bit for Oklahoma.
The running game is a three-headed monster and they're all listed as co-starters: senior Jamycal Hasty (5-9/205); junior Trestan Ebner (5-11/208); and junior John Lovett (6-0/212). So these guys are all similar sizes, Hasty being the shortest, but they're all in that 205 to 210 range, so they're not small by any means. Lovett is the leader thus far, averaging 7.6 yards a carry and leading the team with 312 yards overall with 3 touchdowns. Hasty has 179 on 5.1 yards a carry and Ebner has 150yards on 5.8 yards a carry.
Junior quarterback Charlie Brewer (6-1/206) is the starter, but left the game against Kansas State after taking a big hit. Brewer is cleared to play this week, but if he is injured, redshirt freshman Gerry Bohanon (6-3/221) is the back-up and played well against Kansas State. Brewer has been very good, 1,200 yards, completing 66% of his passes, for 8.5 yards a pass and 11 touchdowns with zero interceptions. Brewer likes to run, which he maybe should not try to do because as previously mentioned he was beat up a bit last week. I should mention that Bohanon is big and fast and if he were to play, he would represent maybe a whole new set of issues for the defense. Bohanan is completing 71% of his passes in limited attempts, but he's also run 17 times for 177 yards averaging 10 yards a carry, so yes, he can fly.
Defensive coordinator Keith Patterson and David Wells acknowledging that the defensive line was dominant against Baylor. It really did start up front and I thought that it wasn't just 2 or 3 guys, but a rotation of guys. Having depth and talent is a lot of fun. Now, I need for this line to do this on the road.
The other item that I thought was really key was that Oklahoma State is very turnover prone (like way too much) and Baylor is not turnover prone at all. That starts with Brewer, who hasn't thrown an interception and they've only lost 3 fumbles all year so Baylor is simply not turning the ball over at all. So don't count on 5 turnovers this week (in fact Baylor has only turned the ball over once at home). If Texas Tech can force Baylor into some bad spots and actually turn the ball over, that would be fantastic. I thought the blitzing linebackers and the defensive line by themselves did a fantastic job of putting pressure on the quarterback, while Sanders last week was likely to throw a really bad pass, Brewer is more likely to throw the ball away.
——————-
FN. 1 I appreciate Baylor actually using their school colors recently because that's the way it should be. Green and yellow. Embrace them and not black or gray.
Special Teams
The shortest segment in the entire preview. Kicking the ball for Baylor is John Mayers who has made all of his extra points, but has only made 2 of 4 field goals and food for thought, all 4 field goals are between 30-39 yards, so Baylor is either going for it or kicking it away. Punting the ball is Issac Power, who is averaging about 38 yards a punt.
For Texas Tech, Trey Wolff has been a threat, making all 18 extra points, and has made 8 of 9 field goals, his only miss is in the 40-49 range. Freshman punter Austin McNamara is still averaging 45 yards a punt which is fantastic and good for 27th in the nation.
Game Prediction
Baylor is favored in just about every statistical category and that was the case last week against Oklahoma State. I think that playing at home versus playing on the road is a big deal and the next step for this program is to play well on the road. The losses were obviously on the road and in both situations the offense struggled mightily. The defense had issues in both of those losses as well, so maybe this is just a situation where the entire team needs to improve (FN 1).
On the offensive end of things, if Texas Tech can continue their offensive output like the Oklahoma State game, then I like Texas Tech's chances, but it really comes down to how well Jett Duffey can attack the defense.
_________________
FN. 1 Except for special teams which has played well pretty much the entire year thus far.