Kansas put up a valiant effort on Saturday, forcing turnovers as advertised. It was very nice of them to give the Tech defense even more opportunities to shine, and shine they did.
Speaking of turnovers, it's amazing how quickly the weather can change, the temperature can drop. Calm days can turn into tempests, warm afternoons can plummet into frigid evenings that leave people scrambling for coats. So brings us to the Iowa State Cyclones, a pleasant enough neighbor, made more so by the high probability of bringing us a win, though the games tended to be entertaining.
But now. . .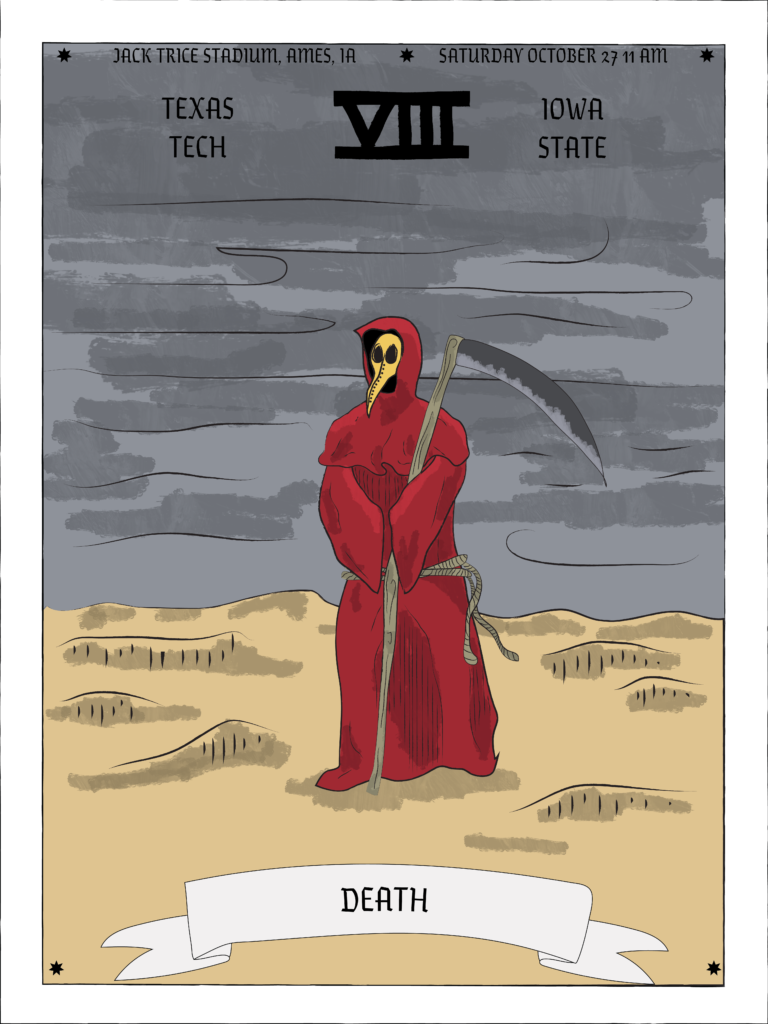 . . . Death.
Endings, increased self awareness, mortality, depression, among others.
Matt Campbell has made Iowa State an ever-living pain, and he must never be forgiven. The Cyclones seemed mortal enough to start the year, as the (new) normal Cyclone defense was hampered with an under-performing offense. However, injury luck and continued poor play allowed for the emergence of a new freshman phenom QB, which in turn went on to open up David Montgomery and the running game even more.
There are no more easy games against ISU anymore, especially as long a Matt Campbell stays in Ames. Kliff & Johns must figure out cloud coverage, and do so against an incredibly stout ISU running defense. This will be Kingsbury's third crack at Campbell and his defense, and there won't be room for error. The defense now has to step up even more and give the offense as many opportunities as possible, which will be no small feat either.
The days of amicably viewing this match-up are over. A loss on Saturday cements a new status quo for this series.