I hope everyone spent the bye week living their best life.
We have no time to rest this week, however, as we are in the vanguard of the college football slate for this weekend. Thursday games are primed for weird outcomes.
This week's card. . .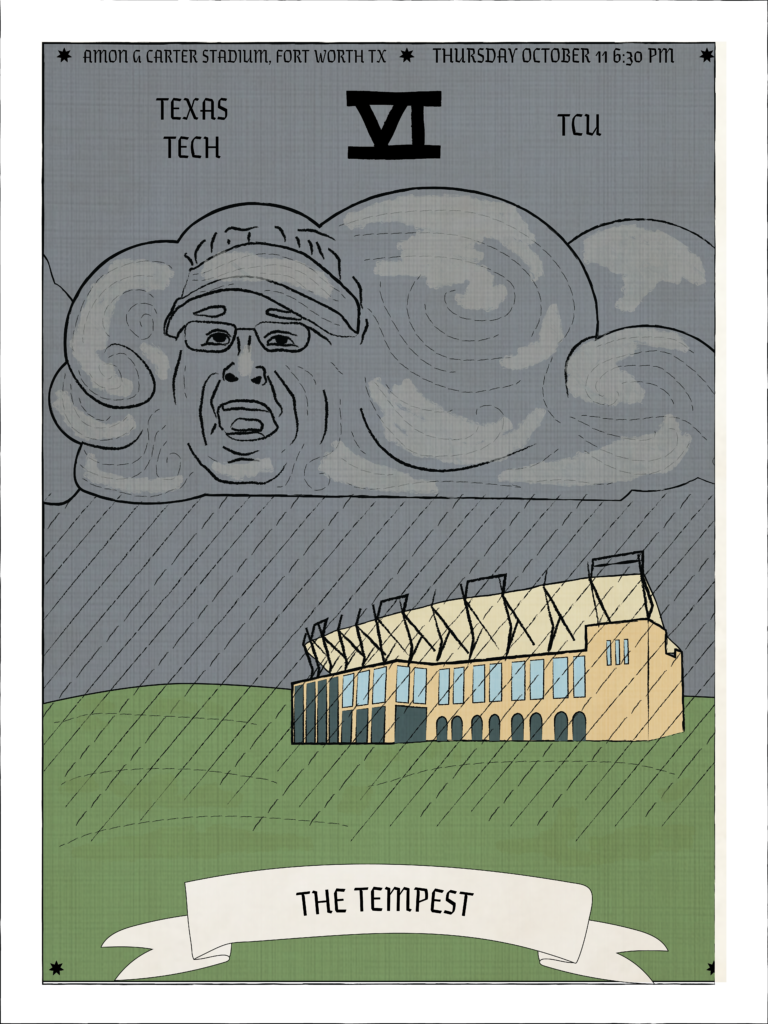 The Tempest.
The presence of this card is followed by madness, portending tumultuous times and uncertainty.
It goes without saying that the biggest question for Texas Tech is again at the quarterback position. It was quite a scare when Bowman went down against West Virginia, but thankfully it seems like he won't have too long of a recovery from the partially collapsed lung. Jett Duffey was able to come in and provide quite the spark, electrifying everyone in between his two interceptions. However, will Kingsbury build a gameplan around Jett or will McClane Carter step back into his starting role that he won in the offseason? With TCU also on a bye week this past weekend, there's no doubt Gary Patterson will have his defense adequately prepared for either. If it is Jett, I would think it would be a great time for Kingsbury to let Johns loose and really incorporate some wildly different running schemes than we've seen so far. I am also unveiling my new campaign, #ThrowDontaThompsonTheBall.
The waters aren't smooth at QB for TCU right now, either. The turnover prone Shawn Robinson suffered an injury to his left shoulder against Iowa State, and as of this fortune telling his status is still unknown. Tech has a history of making back-up quarterbacks looks like Heisman contenders, and I believe I'd rather take the feast or famine of Robinson versus the unknown of Michael Collins, who can definitely get the ball to the talented TCU receiving corps. We'll find out sooner than normal this week, and hopefully the defense shows up before the 2nd quarter on Thursday.
For now, though, I leave you with this wisdom: rain is just cloud sweat.